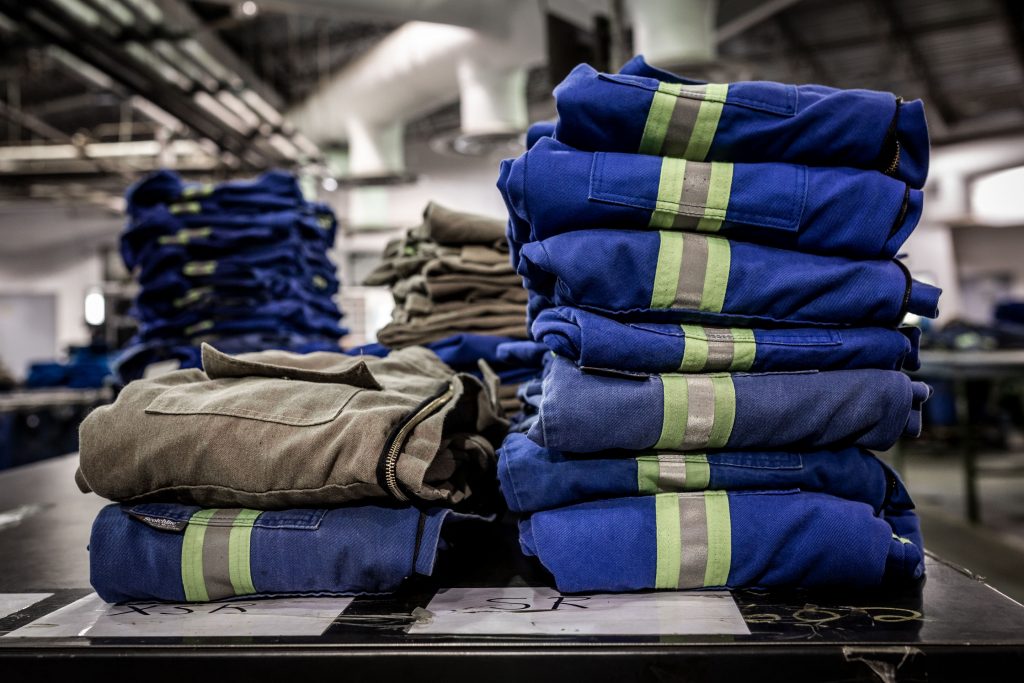 What is high visibility workwear? 
Also known as High Visibility Safety Apparel (or HVSA), high visibility coveralls/workwear is clothing built to improve the visibility of workers in low-visibility areas, or areas where the view of workers is obstructed. 
Why do I need high visibility coveralls? 
People who work on oil sites, roadways, near cars, or are often otherwise obstructed during work hours are at a high risk of workplace accident. High visibility coveralls help to reduce that risk.
In 2015, the majority of road collisions in Alberta happened between 11am-7pm. 3pm-7pm had the most cases of property damage, injury, and fatality. Low-visibility-related collisions are often associated with the evening, night time, and early morning – however, statistics show that daytime hours can be just as risky! This is why it's important that hi-vis workwear is worn at all times.    
According to research done by the United States Occupational Safety and Health Administration, 3 out of every 5 fatalities are caused by "struck-by" hazards in the oil and gas industry. Struck-by hazards occur when a person is hit by an object in motion. 
This includes : 
Falling or flying objects –

Suspended loads that snap or fail, objects dropped from high locations 
Swinging objects –

Cranes, excavators, boom lifts 
Rolling objects – 

Personal vehicles, fleet trucks, forklifts, or loose pipes or cable spools

 
In the oil and gas industry, your safety garments need not only to be highly visible, but also fire resistant. When discussing flame resistant, high visibility garments, the CSA Z96-15 Brochure (Page 7) can provide a breakdown of the CSA Z96-15 Standard. You can order your own CSA Z96 – 5 Brochure here.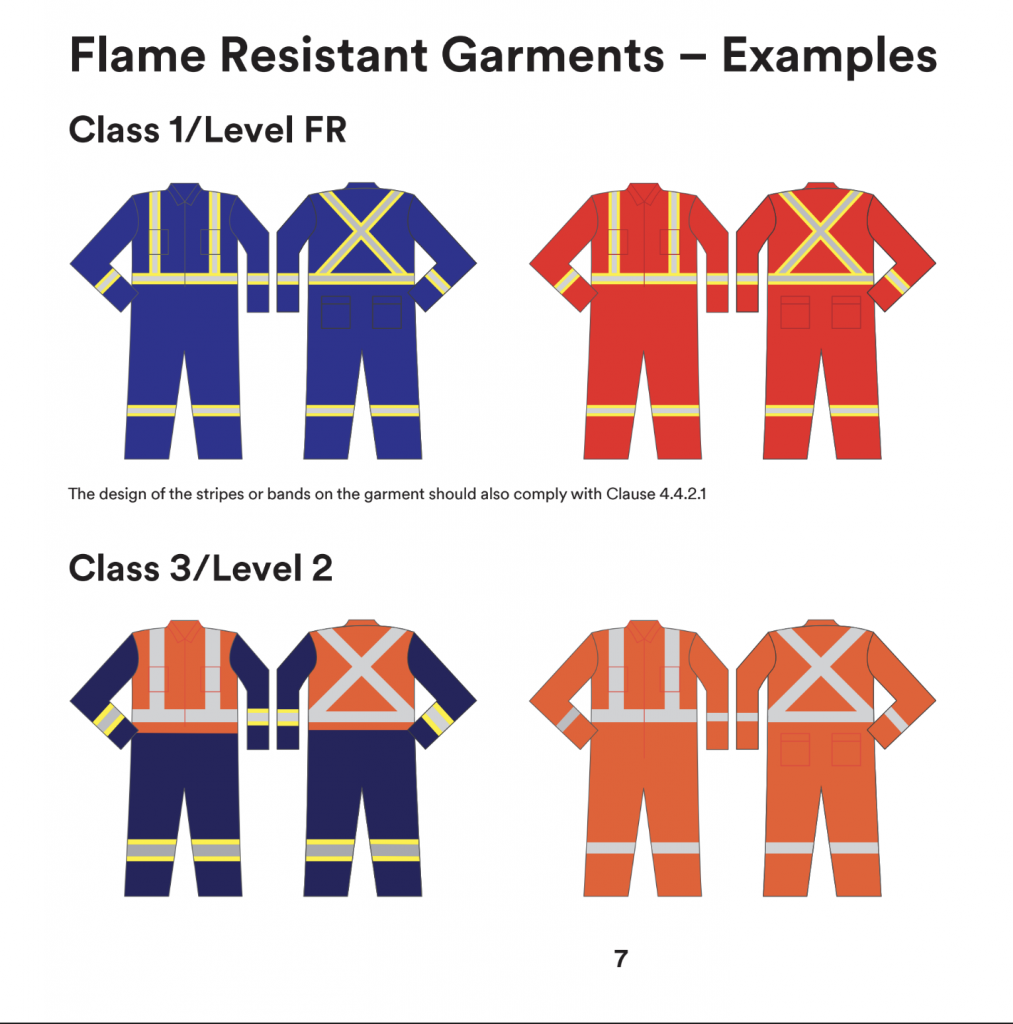 High visibility workwear allows equipment operators to spot their fellow workers, and potentially avoid a fatal workplace accident. This added visibility and awareness can help reduce "struck-by" incidents significantly.
Whether you're working on a road or on a well site, high visibility coveralls keep you visible and easily identifiable, which reduces risks of all kinds. 
How do high visibility coveralls reduce accidents? 
Light from the sun, nearby lights, car headlights, or lights used to illuminate the worksite hit the reflective stripes and bands on the clothing, creating a glowing or shining appearance. 
Retroreflective glass bead technology allows light to reflect straight back to the source. This means light shined from a car will reflect directly back to the driver. Fun fact: this technology is also used in road pavement markings.
The reflected light allows oncoming traffic, coworkers, and passersby to easily identify workers (and do their part to avoid a workplace accident).  
Who benefits from high visibility coveralls? 
High visibility coveralls are beneficial for anyone working a job that has any risk of workplace accident. 
This includes areas with a lot of vehicles, or construction zones, marshalling yards, oil sites, and industrial premises. High visibility coveralls also enhance the safety of workers in areas obscured by leaves/trees, heavy machinery, construction materials, traffic barriers, etc).
What are the different classes of high visibility workwear?
The photos and information provided in the following section are sourced from the Canadian Centre for Occupational Health and Safety (CCOHS) HVSA Factsheet. 
*Please note there are more types of HVSA than just the examples used.  
Different types of HVSA are required under working conditions with different levels of risk. There are three classes of HVSA: 
Class 1 – lowest body coverage + good visibility.

Class 2 – moderate body coverage + enhanced visibility

Class 3 – superior body coverage + visibility. The best option for poor light conditions visibility at far distances
Low Risk: Class 2, Class 1 under certain conditions 
Examples of potential low-risk situations: 
When workers are able to provide full, and undivided attention oncoming traffic 

Where there is significant separation between workers and traffic 

In areas with non-complex complex backgrounds that allow for optimal visibility 

When working around vehicles moving less than 40km/h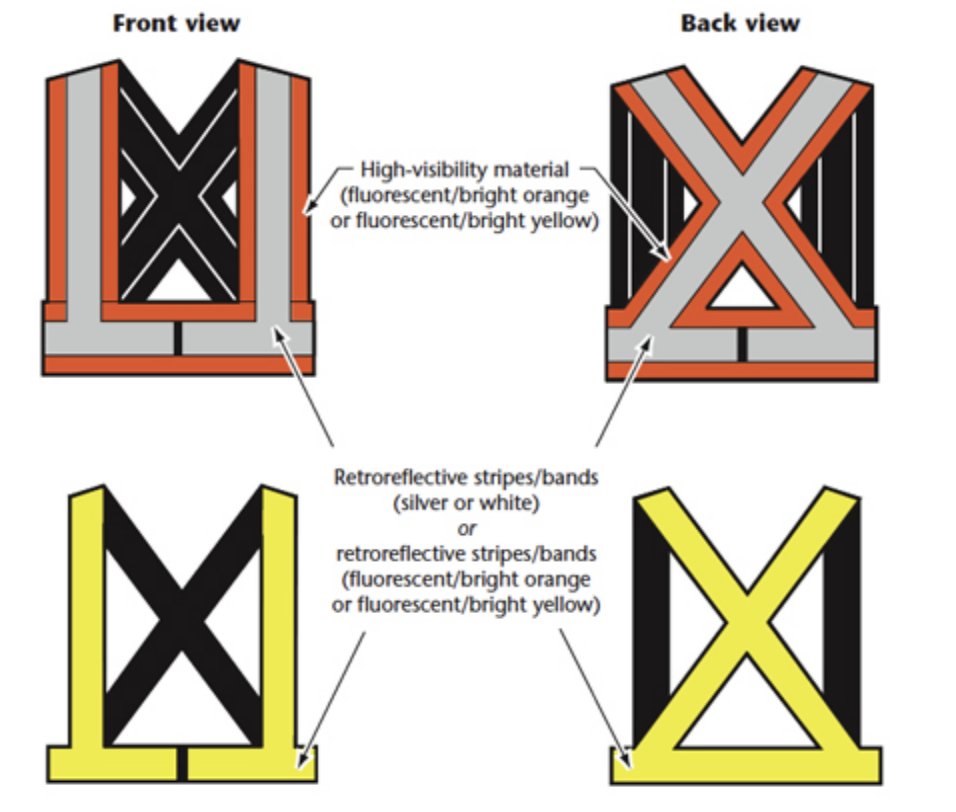 Examples of low-risk jobs:
Directing vehicles to parking spots or service locations 

Retrieving shopping carts from parking areas 

Warehouse operations 

"Right of way" or sidewalk maintenance

Shipping and receiving  
Medium Risk: Class 2, or 3 under certain conditions 
Examples of potential medium-risk situations: 
When working around vehicles moving between 40km/h – 80 km/h 

When working in low light, or under weather conditionals that harm visibility 

When work backgrounds are complex 

When working roles that divert attention from oncoming traffic

When working close to vehicles or near flowing traffic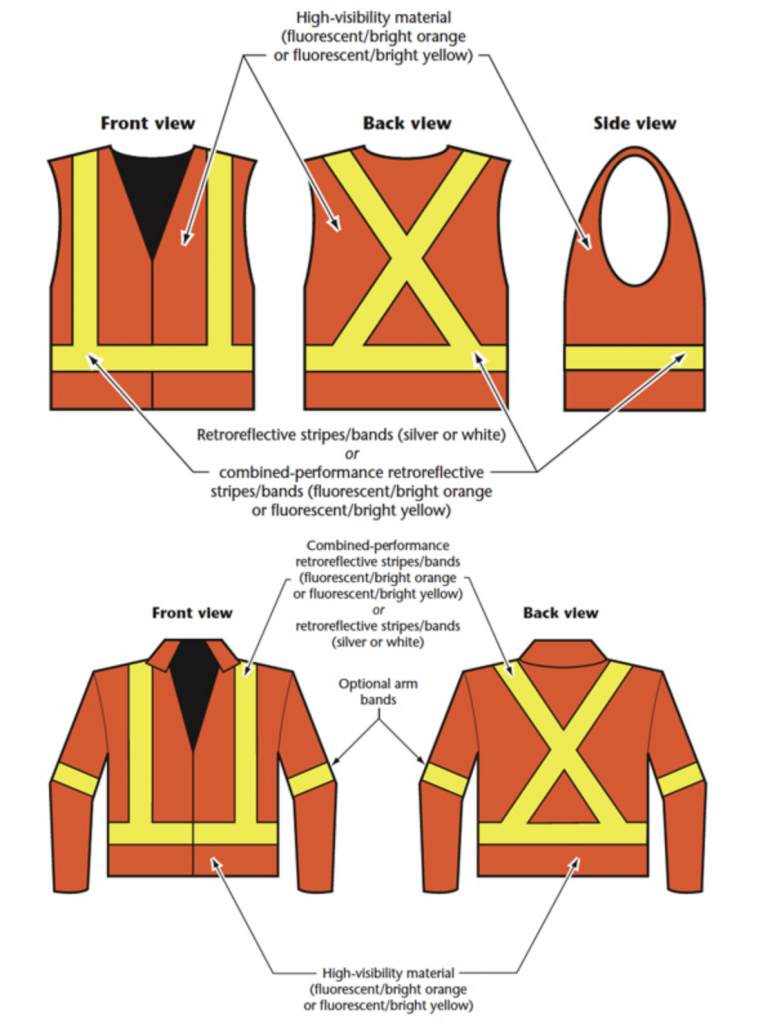 Examples of medium-risk jobs: 
Roadway construction, utility, forestry or railway workers

Utility workers

Survey crews.

Forestry workers

School crossing guards

Parking and/or toll gate workers

Airport baggage handlers and ground crews

Emergency response personnel

Members of law enforcement

Accident site investigators

Railway workers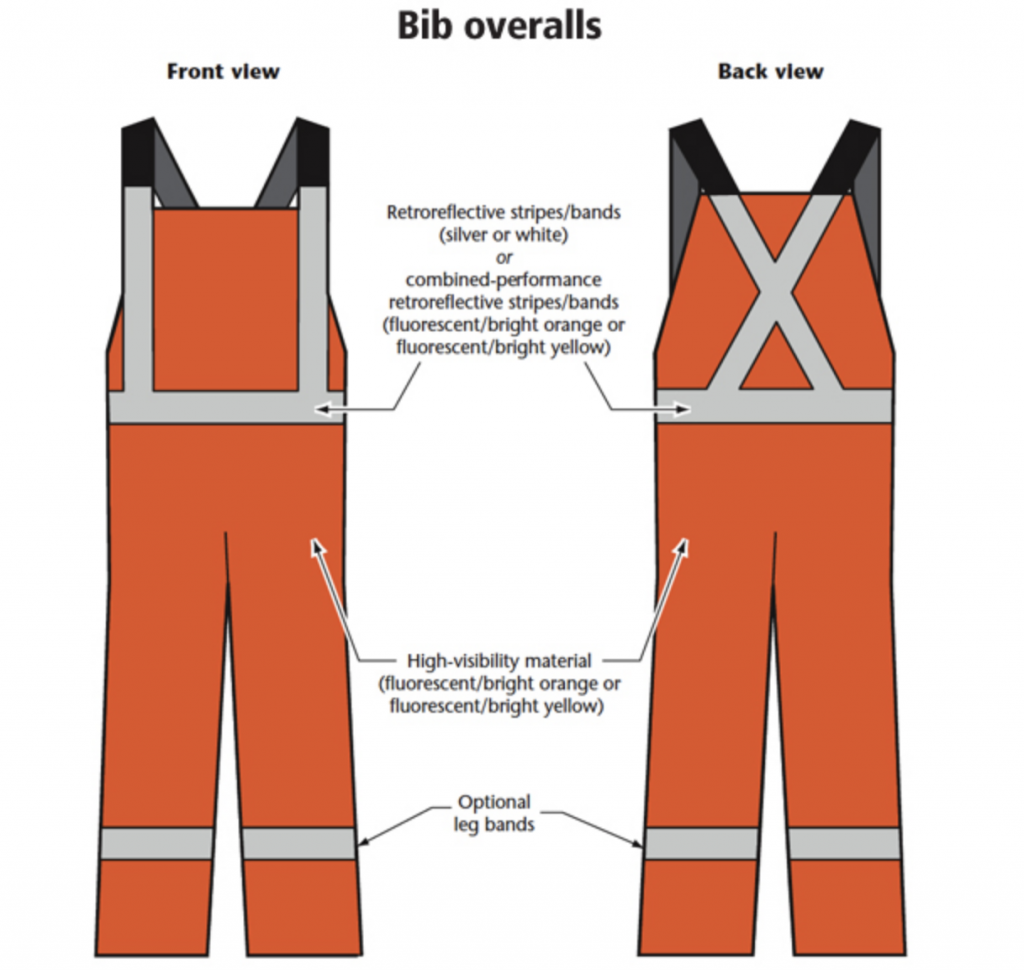 High Risk: Class 2 for daytime, Class 3 for low-light conditions  
Examples of high-risk situations:
Vehicle moving faster than 80 km/h 

Workers on foot and vehicle operators with high task loads that clearly place the worker in danger

When the wearer must be conspicuous through the full range of body motions at a minimum of 390 m 

Work activities taking place in low light or at nighttime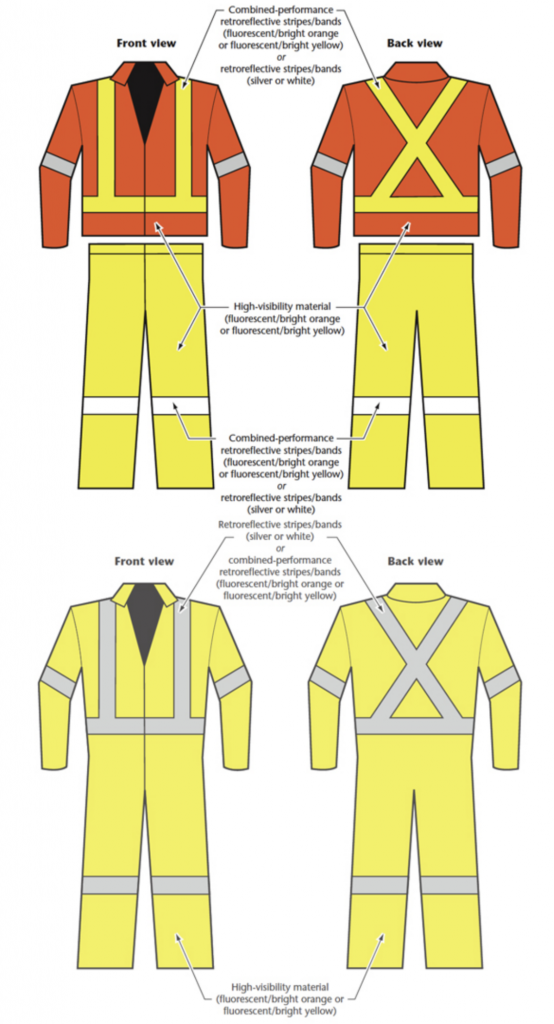 Examples of high-risk jobs:
Roadway construction workers

Utility workers

Survey crews

Emergency responders

Road assistance/courtesy patrols

Flagging crews

Towing operators
Is high visibility workwear a workplace requirement? 
In short: YES—high visibility workwear is, in fact, a workplace requirement. OH&S laws vary between provinces, but proper personal protective equipment (PPE) is federally mandated.  
Personal protective equipment (PPE) is required in the workplace as per federal health and safety regulations. High visibility protective apparel/coveralls fall into this category.  

How do I choose the correct HVSA?  
Choose the right workwear for the job 
Ensure that the class of HVSA you choose matches the risk of the job. Selecting the wrong class can put you at risk! 
If you're unsure of what the appropriate HVSA is, refer to our list in the previous section. The Sample Risk Assessment Form (that can be found in the CSAZ96-15 High Visibility Safety Apparel Handbook, Page 35) can help you determine your level of risk as well.
If you feel your employer provided the wrong HVSA for the job, let them know immediately. 
Make sure it's the right fit 
Poorly fitted workwear can negatively impact your safety! Workwear that is too tight or too loose can restrict, or slow down your movement—harming your ability to react quickly to changes in your environment. 
Wear your HVSA properly 
Make sure you're wearing your workwear properly! Improper use can also significantly reduce HVSA effectiveness. 
For example: vests and jackets should be shut in the front to ensure 360 visibility. 
Choose the right colour 
Make sure your PPE is the correct colour for your work environment. The colour should stand out against your work background. You should be easily identifiable to passersby. 
How do I store my high visibility coveralls? 
Make sure to store your workwear in a dry, clean area that is not easily exposed to damaging conditions. Hanging is the best method for storing HVSA when it's not in use: it keeps the reflective tape in the best possible condition. 
If your organization manages your employees personal protective equipment, ensure someone is clearly assigned the responsibility for storage, checks for wear and tear, maintenance, and cleaning. HVSA is a vital part of worker safety—inspections and maintenance should be taken just as seriously those of buildings and heavy machinery. 
There should be a designated closet, cupboard, or room for HVSA storage within your organization. Ensure your employees are educated on proper storage and maintenance. Not only will proper storage and maintenance improve employee safety, it'll save you money in the long run—well-maintained workwear is workwear that doesn't have to be regularly replaced. 
How do I check for wear and tear? 
Always check your HVSA before you start your work. Make sure to check for: 
Excess dirt, mud, or debris that harms visibility 

Holes, tears, or worn out areas 

Blotches, or bleached spot from improper cleaning methods 

Reflective stripes/bands starting to detach from fabric 

Entirely missing reflective stripes/bands

Reflective stripes/bands with decreased reflectivity 

Reflective stripes/bands with a significant number of creases 
If you do find damages to your coveralls, take them to an authorized facility to make the necessary repairs!   
How do I clean and maintain my high visibility coveralls? 
Well-maintained workwear will stay up to OH&S standards, last longer, and save you money through proper maintenance. Dirty workwear will wear out more quickly, reduce worker visibility, and cost you more in the long run. 
Washing high visibility workwear on your own can be a bit of a challenge. 77% of workers report that they clean and maintain their work clothes themselves, but this can lead to premature deterioration of the material. This can make high visibility clothing less effective. 
Leave it up to the experts—hire a company that specializes in industrial dry cleaning and laundry.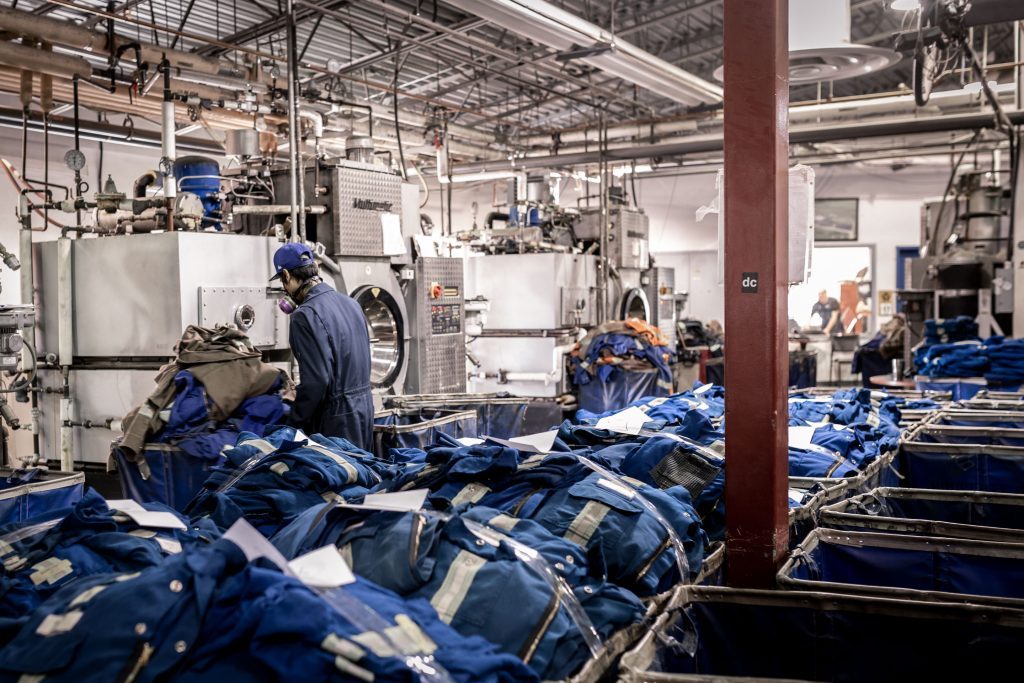 Good news for you, Goodfish Coveralls has you covered! We specialize in industrial washing and drycleaning, and offer competitive and affordable prices. 
A study conducted by the University of Alberta proved that our superior dry cleaning method effectively strips all soil from the garments without compromising the fabric, and creates more longevity of the coveralls, all while maintaining the reflective properties of your high visibility workwear.
If you have any questions about purchasing, mending, or laundering your high visibility coveralls/workwear, please reach out to us at: sales@gflbc.ca or 780-701-9454.